---
21st December 2016 | Author: Murphy
Closing times for the Holidays.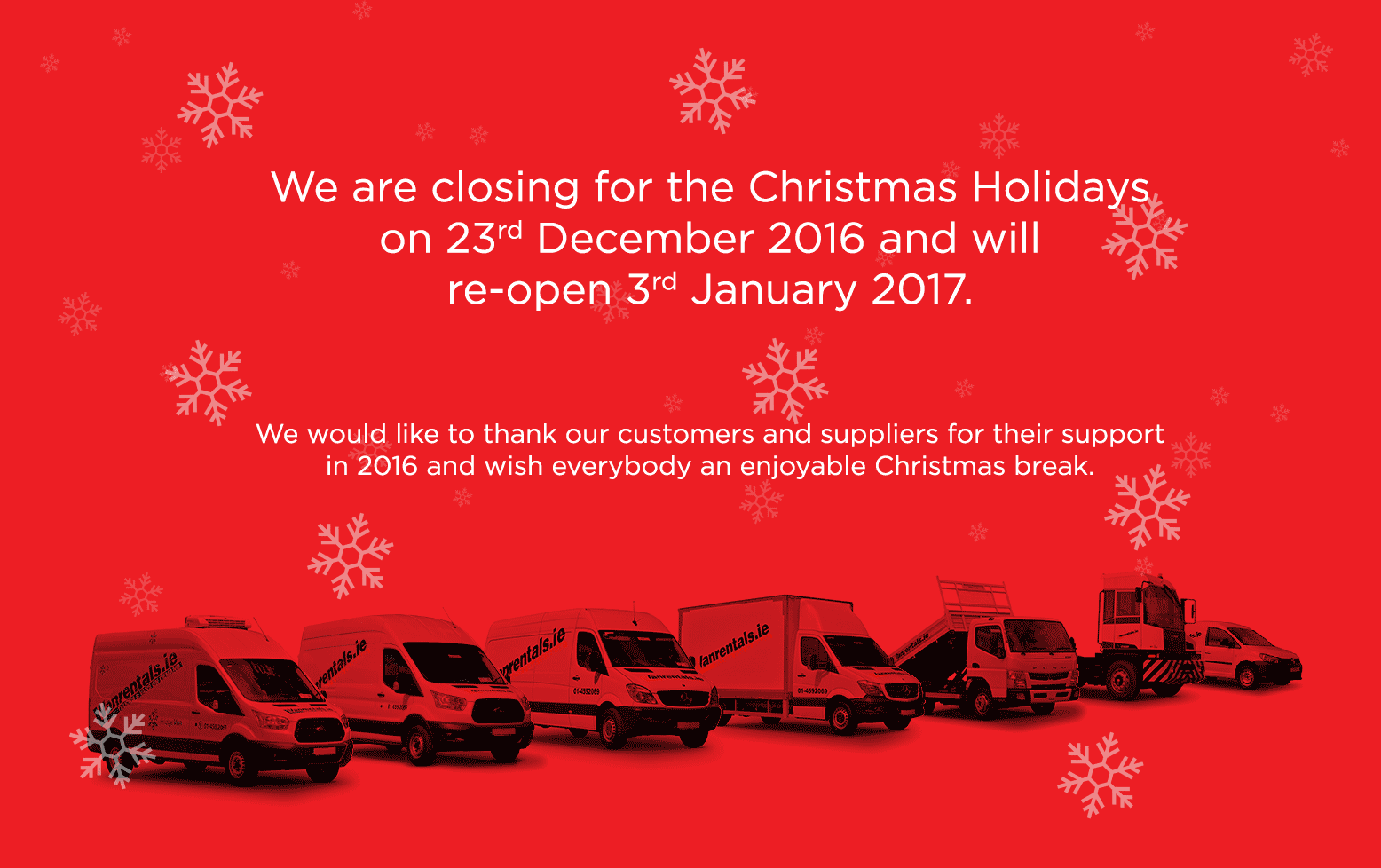 Ok, 2016 has been quite the year. Basically we have seen our insurance costs double, not just private car owners I'm afraid. The housing market once again has gone nuts with no resolution in sight from our myopic Dail residents and pretty much everything has increased in price. Well with the exception of van hire which is probably cheaper than at any time in Ireland's history.
Its a strange phenomenon, the cost of vans and trucks in the past few years has risen primarily due to the more stringent European legislation covering emissions. The current standard is called Euro 6 and this has added about 1,500 Euro to the price of the average 3.5 tonne chassis, far more for larger rigid trucks and tractor units. Worse still this has affected the reliability and servicing costs of rental vehicles. In times past the heavy repair cost on vehicles tended to be in the suspension, brakes and the engine block and head. These days the real bugbears are on the inlet and exhaust end of the vehicles. On the inlet side we have pumps and injectors running at higher pressures and tighter tolerances to save fuel and on the exhaust side we have the highly complex diesel particulate filter system doing its damnedest to minimize pollution. Stitching these two ends together are a series of ecu's and sensors and that's were the fun begins. Simply put, this technology affects reliability and cost. Added to the cost is also the lucrative trade in stolen DPD filters in Ireland which has seen many larger depots targeted for these filters by thieves.
That said, there seems to be more work for many Irish firms out there. Income for work has not increased in the past couple of years and margins are tight. Our customers cite that they are busy but finding it hard to control fixed costs and this is impacting their bottom line.
Anyway for the next week or so we all get to take a break from the grind and hope 2017 holds great things for you.
Sincerely , John Murphy.